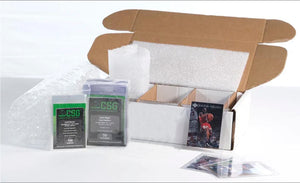 Sports Cards Shipping Kit
*Backordered* - Restock TBA
NOTICE: This product is temporarily shipping in different sized boxes than are pictured.
The CSG Shipping Kit contains everything you need to send your cards safely to CSG when submitting via mail.
The CSG Shipping Kit includes:
1 sectioned shipping box that holds up to 150 cards

2 foam inserts

3 pieces of bubble wrap

1 pack of 100 Card Sleeves (may be different than shown)

1 pack of 50 CSG Semi-Rigid Card Holders
CSG Shipping Kits are shipped for free to all US addresses. Shipping to international addresses is additional.
NOTICE: CSG Card Sleeves are currently SOLD OUT. CSG Shipping Kits will include cards sleeves that are different than shown here.

Disclaimer: Instructions from CSG on how to package cards are only suggestions. Customer alone is responsible for safely and securely packaging the cards, and should, in Customer's sole discretion, determine how to package the cards to prevent damage during CSG's normal handling process. 
**Due to current international supply chain issues, CCG reserves the right to substitute unavailable items with similar products.**