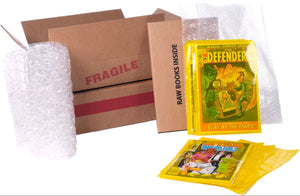 Comic Books "Signature Series" Small Shipping Kit
*Backordered* - Restock TBA
CGC Comics now offers Signature Series Shipping Kits for your convenience and peace of mind when submitting comics via mail. These CGC Signature Series Shipping Kits are available in two sizes and each contains the tried-and-true components CGC uses to securely ship comic books back to customers -- AND now with our awesome grader-approved comic book window bags!

Small Signature Series Shipping Kit Contents Include:
10 Bags (not pictured)
10 Boards (not pictured)
10 Comic Book Window Bags
1 "RAW BOOKS INSIDE" Box
2 Bubble Bags
1 Return Box
2 Pieces of Bubble Wrap
All CGC Shipping Kits are shipped for free to all US addresses. Shipping to international addresses is additional.
*Please note that the shipping kits are specifically designed for comic books and do not fit most magazines or magazine-sized books.
*Important Notice:  The customer is responsible for safely and securely packaging the collectibles.  Any instructions from CGC on how to package collectibles are only suggestions.  The customer, in its sole discretion, must determine how to package the collectibles to prevent damage during the normal handling process.  The customer assumes all risk of loss or damage to collectibles until collectibles are received and inspected by CGC
PURCHASING FOR A PRIVATE SIGNING?
Please write you Private Signing ARTISTS(S) NAME(S) in the NOTES section at the checkout screen. This will help ensure that your shipping materials are sent promptly.
**Due to current international supply chain issues, CCG reserves the right to substitute unavailable items with similar products.**